Massey's Garage Holbeach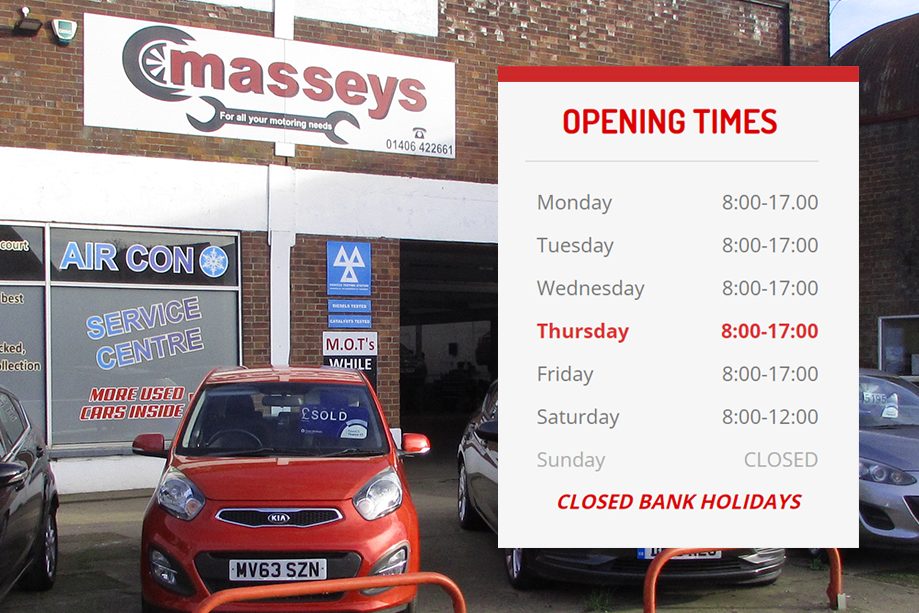 Massey's Garage Holbeach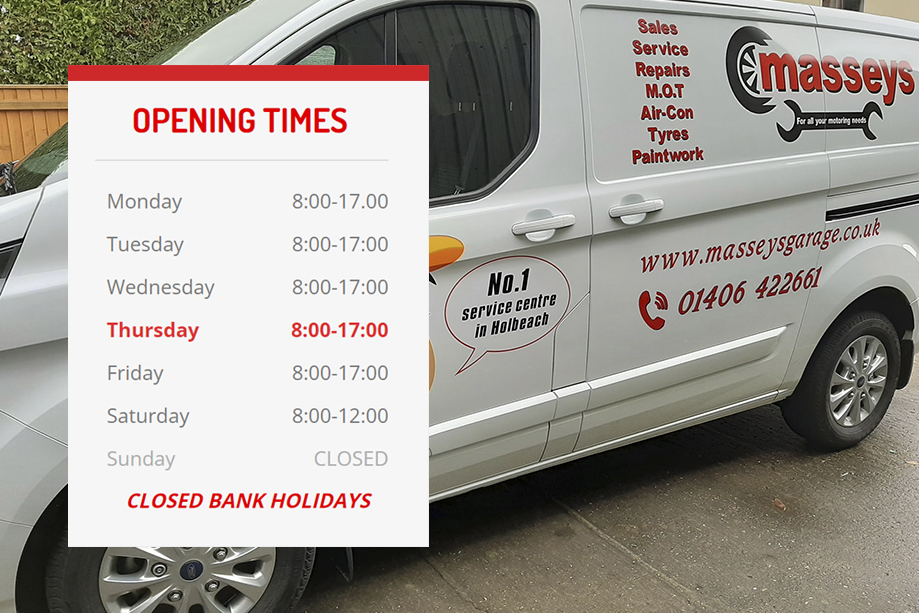 MOT ONLY £49.00
Book your car in today!
GET A FREE REPAIR ESTIMATE
Speak to our team today
CONTACT 01406 422661
Boston Road, Holbeach PE12 7LR
Welcome to Masseys Garage, your premier destination for top-quality automotive services in Holbeach, Lincolnshire. As a leading local garage in Holbeach, we are dedicated to providing our customers with exceptional service and unparalleled expertise in car maintenance and repairs. Our team of skilled professionals is committed to ensuring your vehicle performs at its best, whether you need a simple MOT, comprehensive servicing, or intricate repairs.
At Masseys Garage, we understand the importance of having a reliable and efficient vehicle. That's why we offer a wide range of services, including tyre fitting, exhaust repairs, battery replacements, clutch repairs, and cam belt maintenance. Our state-of-the-art facility is equipped with the latest tools and technology to handle every aspect of your car care needs.
Located in the heart of Holbeach, our garage has become a trusted name in the community for all things automotive. We take pride in our ability to provide prompt, professional, and friendly service to each of our customers. Our team is well-versed in working with a variety of car makes and models, ensuring that your vehicle receives the care and attention it deserves.
We also specialize in air conditioning services, including regassing and repairs, to keep you comfortable throughout the year. Our commitment to quality and customer satisfaction makes us the go-to garage in Holbeach for drivers seeking reliable and efficient automotive solutions.
Visit Masseys Garage today for all your car maintenance and repair needs. Our friendly staff is ready to assist you with professional advice and expert service. Trust us to be your partner in keeping your vehicle running smoothly and safely on the road. For excellent automotive care in Holbeach, look no further than Masseys Garage.
Slide
What customers said about us
The guys at Massey's Garage are very friendly, their services are extremely competitive and their work is always done in time and in a professional manner.
Slide
What customers said about us
Have used Massey's garage several years, always same excellent service, nothing is ever a problem, work done to very good standard, recommended.
Slide
What customers said about us
Excellent garage, would highly recommend, they really helped me out today. I always worry that garages will rip me off but Masseys are always trustworthy and really helpful.